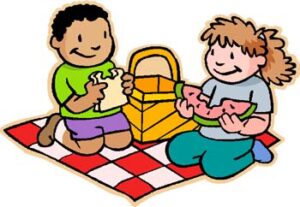 Join us on Friday, May 12 from 5:30-8:30 for Lakewood's Annual Spring Picnic.  This is a great opportunity to meet other Lakewood families, enjoy a picnic dinner while the kids play and support the 5th graders as they begin their 6th Grade Activity fundraising efforts.
It's going to be an exciting evening with great raffle prizes ("Duct Tape the Principal to the Wall," 4 Entry tickets to the Fall Carnival, Free 2023-2024 Lakewood Lions shirt and sweatshirt, and more!
Bring extra cash for more raffle tickets, popcorn, candy, soda and ice cream!
Plus, Student Council will be holding their Used Book Fair and will give one free raffle ticket for every kitchen garbage of recyclables you bring in.  Also, if you've outgrown your Lakewood gear, bring your good condition shirts and sweatshirts for a new Student Council project helping all Lions get in the spirit with Spirit Wear!
Order meals and raffle tickets online or print out the 2023 Spring Picnic Order form and return it to school!
Select your meals and the number of raffle tickets you'd like, add them to your cart and check out when you're done shopping!
Thank you for your support!